Europe's Leading Foal Sale
November 28 - December 1, 2018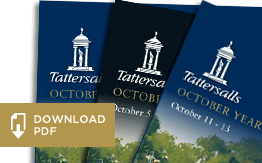 Don't have Acrobat Reader?
Download it FREE from here.
2017 Sale Review:
Rises Across the Board at Tattersalls December Foal Sale
There were rises across the board at the Tattersalls December Foal following a final session that saw 167 lots sell for 3,534,200 guineas. That took the four-day turnover to 32,668,200 guineas for the 742 lots sold, a rise of 7%. The average rose 7% to a record 44,027 guineas whilst the median rose 19% to a record equalling 25,000 guineas.
The top price during the final session of the Tattersalls December Foal Sale was 110,000 guineas for lot 1150, the IFFRAAJ filly out of the Listed-placed OASIS DREAM mare ARABIAN MIRAGE. Consigned by Simon Sweeting's Overbury Stud, the filly was bought by Norris/Huntingdon as a pinhook prospect and matches the top price at this session last year.
"She is a lovely filly," said Liam Norris. "She is for a syndicate and will be re-consigned here. She was the only one I had on my list today."
Sweeting said: "I am delighted with the price, but am even more delighted with where she is going to - Liam and Jenny do a fabulous job and it is important as the mare is with us and is a young mare.
"Richard Brown of Blandford Bloodstock bought her for us last year carrying this covering - we paid 52,000 guineas at the Tattersalls December Mare Sale. Richard has very strict criteria regarding buying mares - they have to be correct, good-looking mares and athletic, it means you walk away from a lot, but this has worked out very well indeed.
"We like our Saturday slot - it suits us very well indeed!" added Sweeting.
December Foal Sale Day 4 Comparative Figures:

| Year | Catalogued | Offered | Sold | Aggregate | Average | Median |
| --- | --- | --- | --- | --- | --- | --- |
| 2017 | 276 | 235 | 167 | 3,534,200 | 21,163 | 15,000 |
| 2016 | 267 | 221 | 160 | 3,257,000 | 20,356 | 13,000 |
December Foal Sale Comparative Figures:

| Year | Catalogued | Offered | Sold | Aggregate | Average | Median |
| --- | --- | --- | --- | --- | --- | --- |
| 2017 | 1,147 | 957 | 742 | 32,668,200 | 44,027 | 25,000 |
| 2016 | 1,136 | 957 | 743 | 30,568,350 | 41,142 | 21,000 |
The second foal to top 100,000 guineas on the final day of the Foal Sale was lot 1186, the NIGHT OF THUNDER colt out of the GREEN DESERT mare WHITE WEDDING. Consigned by Chris Budgett's Kirtlington Stud, the son of the 2,000 Guineas winner was knocked down to Gay O'Callaghan's Yeomanstown Stud for 100,000 guineas. He is out of a half-sister to the Group 1 Fillies' Mile and Falmouth Stakes winner SIMPLY PERFECT.
"We bought the mare in foal to Air Chief Marshal" said Budgett. "It's a wonderful family and the foal she was carrying turned out to be Zack Mayo [a three time winner this year for Charlie McBride] - anyone who has seen him race knows he's a good horse."
On the decision to use NIGHT OF THUNDER, Budgett added: "It worked on paper - for us, it's all about breeding racehorses."
At the conclusion of the 2017 Tattersalls December Foal Sale, Tattersalls Chairman Edmond Mahony commented;
"The correlation between the yearling market and the foal market is well established and the record breaking Tattersalls October Yearling Sale has been matched by an equally dynamic Tattersalls December Foal Sale. This week's sale has achieved increases across the board and cemented the reputation of the Tattersalls December Foal Sale as the premier fixture of its kind in Europe. Tribute must go to the vendors who yet again have brought the cream of the British and Irish foal crops to Tattersalls and the buyers have responded accordingly. A record average well in excess of 40,000 guineas, turnover of more than 30 million guineas for the fifth consecutive year, as well as a record-equalling median all tell the story of a sale which has produced fierce and sustained competition at all levels of the market from start to finish.
"Highlights of the December Foal Sale have included Willie and Elaine Carson's DUBAWI half-sister to JACK HOBBS selling for 750,000 guineas, the continued global demand for the outstanding Ballymacoll stock and a significant number of new investors, particularly at the top of the market. The number of foals selling for 200,000 guineas or more has risen from 16 in 2016 to 26 this year with a truly diverse international cast of buyers competing with the crowds of British and Irish pinhookers who make the Tattersalls December Foal Sale such a special event every year.
"The strength of this week's Foal Sale indicates a market in good health as the focus now switches to the breeding stock. The Tattersalls December Mare Sale is uniquely cosmopolitan and this year's catalogue has an abundance of quality in addition to the final instalment of the once in a generation Ballymacoll Dispersal."
The four-day Tattersalls December Mare Sale featuring the Ballymacoll Dispersal starts at 9.30am on Monday, December 4th.
Earlier Press Releases
Sale highlights
Sale Videos