Europe's Leading Foal Sale
November 25 -28, 2015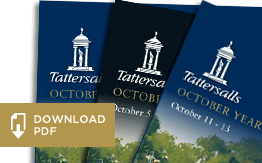 Don't have Acrobat Reader?
Download it FREE from here.
More Records At Tattersalls December Foal Sale
The Tattersalls December Foal Sale finished with a flourish resulting in a record turnover for the sale of 32,110,900 guineas. The final session saw a total of 144 lots sell for 4,663,600 guineas at an average of 32,386 guineas and a median of 21,000 guineas. This took the four-day totals to 779 lots sold for a record 32,110,900 guineas, at an average of 41,221 guineas and a median of 25,000 guineas.
The top two lots were both fillies sold by the Irish National Stud. The first, lot 1184 was the INVINCIBLE SPIRIT filly out of the PEINTRE CELEBRE mare NINA CELEBRE who was knocked down to Sheikh Mohammed's bloodstock advisor John Ferguson for 170,000 guineas. Bred by Gestut Wittekindshof, the filly hails from a top class German family that includes grand-dam NEXT GINA, Champion three-year-old filly in Germany and NEXT DESERT, Champion three-year-old and German Derby winner.
There have been a total of 11 foals sold by INVINCIBLE SPIRIT this week for 1,317,000 guineas at an average of 119,727 guineas.
December Foal Sale Day 4 Comparative Figures:

| Year | Catalogued | Offered | Sold | Aggregate | Average | Median |
| --- | --- | --- | --- | --- | --- | --- |
| 2014 | 221 | 189 | 144 | 4,663,600 | 32,386 | 21,000 |
| 2013 | 219 | 191 | 149 | 4,724,800 | 31,710 | 20,000 |
December Foal Sale Full Sale Comparative Figures:

| Year | Catalogued | Offered | Sold | Aggregate | Average | Median |
| --- | --- | --- | --- | --- | --- | --- |
| 2014 | 1,116 | 966 | 779 | 32,110,900 | 41,221 | 25,000 |
| 2013 | 1,072 | 943 | 740 | 31,420,400 | 42,460 | 23,000 |
The next lot in was the SEA THE STARS filly out of the DESERT KING mare LIA. The last lot to be offered for the week by the sire, she didn't let the side down, selling for 170,000 guineas to the bid of Shadwell Estates' Angus Gold. Bred by Dr Loreto Luciani's Azienda Agricola Luciani Loreto, the filly's pedigree includes the Group 1 winners LATICE and LAWMAN.
A few lots earlier the SEA THE STARS colt out of the ANABAA mare GARANCIERE was knocked down to Anthony Stroud for 155,000 guineas.
"He is for an Irish pinhooking client," said Stroud.
"He is a great sire and this is a lovely walking colt."
Simon Hope of vendor Aston Mullins Stud said: "Blandford Bloodstock helped organised the mating with Sea The Stars, and until Frankel came along he was the best racehorse in a generation.
"I Love Me, the dam's first foal, was a talented filly and was by Cape Cross, which was also some of the reasoning behind the Sea The Stars cover."
Late in afternoon the DUTCH ART colt out of the NAYEF mare DARLING GRACE was knocked down to Philipp and Marion Stauffenberg for 160,000 guineas. Consigned by Clanville Stud on behalf of Highgate Stud, the colt was bought as a pinhook prospect and is the fourth purchase this week.
"He is a lovely foal, our pick of the week," said Marion Stauffenberg.
"He is a pinhook and we will aim to come back here next year," added Philipp.
"Of course, you have to see how they winter and assess them in the spring.
"We have needed to be patient as we missed out on a few we bid on earlier this week."
The foals will winter at Stauffenberg's farm of Gestut Itlingen. Stauffenberg Bloodstock enjoyed a good October Yearling Sale, with the firm's headline act being the sale of a CHAMPS ELYSEES colt for 320,000 guineas after being purchased for 160,000 guineas here last year.
At the conclusion of the 2014 Tattersalls December Foal Sale, Tattersalls Chairman Edmond Mahony commented;
"Yet again, outstanding results from the Tattersalls October Yearling Sale have provided the impetus for a record breaking Tattersalls December Foal Sale. The level of trade at Europe's premier foal sale has mirrored the extraordinary demand for yearlings here in October and to have achieved record turnover for the second consecutive year is a tribute to a catalogue comprising so many of the best foals to be found in Britain and Ireland.
"Sustained demand at all levels of the market has been the feature of the sale with a huge number of pinhookers and many of the world's leading owners all contributing to the impressive returns. As ever, comparative figures make interesting reading and it seems amazing to note that turnover as recently as the 2010 Tattersalls December Foal Sale was a little over 17 million guineas with 105 foals sold for 50,000 guineas or more, while this year's sale has achieved turnover of more than 32 million guineas with more than 200 foals breaking the 50,000 guineas mark. Never before have so many foals sold for 50,000 guineas or more at the December Foal Sale and it has been wonderful to see British and Irish breeders being so well rewarded.
"To date, every 2014 sale at Tattersalls has achieved growth in turnover and the level of demand this week suggests that we can look forward to a successful conclusion to the Tattersalls sales season. Each year the Tattersalls December Breeding Stock Sale is one of the most eagerly anticipated events in the bloodstock sales calendar and we look forward to welcoming buyers from every continent in the world."
The Tattersalls December Mare Sale starts on Monday, December 1 at 9.30am.
Earlier Press Releases
Sale Videos
Sale highlights