Book 2 of Europe's Largest Yearling Sale
October 13 - 15, 2014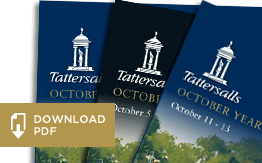 Don't have Acrobat Reader?
Download it FREE from here.
Record Turnover At Book 2 Of Tattersalls October Yearling Sale
The strong demand seen on the first three days of the Tattersalls October Yearling Sale continued on the fourth and final day as the sale posted turnover, median and clearance records. The final day saw a total of 175 lots sold for 7,808,500 guineas, a rise of 9% on the final session in 2012 whilst the average of 44,620 guineas and the median of 35,000 guineas represented rises of 29% and 17% respectively whilst the clearance on the final day was 85%. The sale as a whole saw a total of 765 lots sold for 36,359,500 guineas which represented a record turnover and a rise of 17% on the record 2012 sale. The average of 47,529 guineas was up 21% on 2012 whilst the median rose 16% to 37,000 guineas and was also a record for the sale. Over the four days a total of 62 lots were sold for 100,000 guineas or more, which is more than at any other renewal of the sale and 14 more than last year. The number of 200,000 guineas lots also rose sharply on 2012, with 9 this year, compared to only 4 in 2012.
London-based agent Charlie Gordon-Watson secured the colt by Australian sire sensation FASTNET ROCK consigned from Watership Down for 180,000 guineas after seeing off the efforts of David Elsworth.
"This horse could look cheap this time next year," said Gordon-Watson. "A nice individual by a very good sire. He goes to David Wachman."
The bay colt is a half-brother to the Listed winner ITHOUGHTITWASOVER and out of the INDIAN RIDGE mare GREEN CASTLE, the dam of four winners from five runners and grand-dam of the highly-rated SHAMSHON.
October Yearling Sale Book 2 Day 4 Figures:

| Year | Catalogued | Offered | Sold | Aggregate | Average | Median |
| --- | --- | --- | --- | --- | --- | --- |
| 2013 | 231 | 205 | 175 | 7,808,500 | 44,620 | 35,000 |
| 2012 | 261 | 234 | 207 | 7,147,500 | 34,529 | 30,000 |
October Yearling Sale Book 2 Full Sale Figures:

| Year | Catalogued | Offered | Sold | Aggregate | Average | Median |
| --- | --- | --- | --- | --- | --- | --- |
| 2013 | 965 | 878 | 765 | 36,359,500 | 47,529 | 37,000 |
| 2012 | 1,043 | 937 | 788 | 31,039,000 | 39,390 | 32,000 |
The first yearlings by RIP VAN WINKLE, the triple Group 1 winning son of GALILEO, have been very well received at Books 1 and 2 of the October Yearling Sale. One to attract the interest of buyers on the final day was the son of the MACHIAVELLIAN mare HAVE FAITH, the half-sister to the Group 1 Nassau Stakes winner FAVOURABLE TERMS, that was knocked down to Ross Doyle for 170,000 guineas. The purchase was one of 41 for a total of 3,587,000 guineas made by the father-son team of Peter and Ross Doyle, making them the leading purchasers at Book 2. The sale was also further success for Bumble Mitchell, who consigned the colt on behalf of Fergus Anstock's The Kathryn Stud, the same team responsible for last night's sale-topping MOTIVATOR filly.
"This colt came to me in July from The Kathryn Stud and I was impressed with him straight away," said Bumble. When asked if she been celebrating the big sale last night, she said: "We have a job to do so no, but we will probably have a few drinks when we get home!"
Sheikh Mohammed's bloodstock advisor John Ferguson sent to 160,000 guineas to secure the NEW APPROACH colt out of the Group placed FASLIYEV mare FASLEN, consigned by Peter Stanley's New England Stud. The February-born colt was bred by Paddy Barrett, who was at Park Paddocks to watch his yearling sell.
"It's all down to New England's advice - Peter was sure he'd do well, but you never know what is going to happen until you are in the ring," laughed Barrett. "It's also due to Luke Lillingston, who bought the mare for me - he is sure something good is going to come out of her. My wife will have been listening in so hopefully that will help her see the horses in a good light!"
At the conclusion of Book 2 of the 2013 Tattersalls October Yearling Sale, Tattersalls Chairman Edmond Mahony commented;
"Record turnover at Book 2 of the Tattersalls October Yearling Sale for the third consecutive year is a pretty remarkable achievement and a clear indication of the sale's standing in the European yearling sales calendar. The turnover of more than 35 million guineas comfortably exceeds the spend at any other European yearling sale except October Book 1, and is a wonderful tribute to the high regard in which the sale is held. Book 2 of the October Yearling Sale has shown itself not only to be the preferred option of so many British and Irish consignors, but also of so many British and Irish buyers and their counterparts from throughout Europe and further afield. Year after year graduates of Book 2 perform at the highest level on the global stage and this racecourse success has been reflected in the fierce competition for quality, commercial yearlings at all levels of the market.
"The extraordinary events of last week will sit proudly in the record books for many years to come, but the depth to the Book 2 trade has been equally gratifying. Buyers from more than 20 countries, including Australia, Hong Kong, India, Japan, New Zealand and Ukraine have all made a significant contribution and, similar to Book 1, the influence of our wide cross section of buyers from the Gulf region has been immense. The vendors have brought a superb collection of yearlings to Park Paddocks and their collective confidence in the sale has resulted in an unprecedented number of six figure lots, double digit rises in average and median, and a hugely impressive clearance rate in excess of 85%.
"Yet again a sale at Tattersalls has exceeded expectation and we now look forward to sustaining the momentum throughout Book 3 of the October Yearling Sale and to the end of the 2013 Tattersalls sales season."
Book 3 of the Tattersalls October Yearling Sale starts at 10am on Friday, October 18 with 300 lots catalogued.
Latest Press Releases
Sale highlights