Book 3 of Europe's Largest Yearling Sale
October 16-17, 2014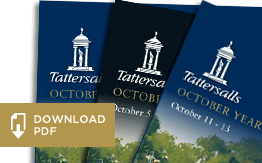 Don't have Acrobat Reader?
Download it FREE from here.
2013 Sale Review
Record Turnover At 2013 Tattersalls October Yearling Sales
Book 3 of the Tattersalls October Yearling Sale saw a total of 216 lots sell for 2,304,300 guineas, at an average of 10,668 guineas and a median of 6,900 guineas. The turnover was up 38% on the corresponding session last year, whilst the average rose 27% and the median 15%.
For the two-week long October Yearling Sale, a total of 1,320 yearlings were sold for 109,006,800 guineas and more than 110,000,000 guineas after private sales are added in, a rise of 8% on the total from 2012. The average rose 15% to 82,581 guineas whilst the median rose 10% to 42,000 guineas.
Michael Carty's Kilmoney Cottage Stud enjoyed a great pinhooking result at Book 1 of the October Yearling Sale when turning a son of ZEBEDEE from a €65,000 foal purchase into a 220,000 guineas yearling sale. On the back of that success Carty decided on his first foray into the breeze up market, buying the DUTCH ART colt out of BYE BOLD AILEEN for 57,000 guineas.
Carty bought the half-brother to the Listed winner MANSTON from Paul & Sara Thorman's Trickledown Stud after seeing off Emerald Bloodstock's Peter Kelly and indicated that the colt would return to the Tattersalls Craven Breeze Up Sale in the spring.
October Yearling Sale Book 3 Figures:

| Year | Catalogued | Offered | Sold | Aggregate | Average | Median |
| --- | --- | --- | --- | --- | --- | --- |
| 2013 | 300 | 259 | 216 | 2,304,300 | 10,668 | 6,900 |
| 2012 | 266 | 229 | 199 | 1,669,600 | 8,390 | 6,000 |
October Yearling Sale Books 1 - 3 Figures:

| Year | Catalogued | Offered | Sold | Aggregate | Average | Median |
| --- | --- | --- | --- | --- | --- | --- |
| 2013 | 1,819 | 1,628 | 1,320 | 109,006,800 | 82,581 | 42,000 |
| 2012 | 1,886 | 1,680 | 1,405 | 100,811,100 | 71,752 | 38,000 |
Marcus Tregoning, who trained SIR PERCY to win The Derby in 2006, went to 52,000 guineas to secure one of his sons consigned from The Castlebridge Consignment. The colt is out of the BERTOLINI mare BERMONDSEY GIRL, a half-sister the Group 1 Falmouth Stakes third MUSICANNA, and was secured by Tregoning at the expense of Richard Knight and Tony O'Callaghan.
"This is a very good example of a Sir Percy," said Tregoning. "One of the best I have seen. He is a very good walker, like his sire, who has been doing very well at stud."
Late in the evening Noel Quinlan secured the cracking IFFRAAJ colt consigned from Kevin and Sue Mercer's Usk Valley Stud. The colt hails from the classic Meon Valley Stud family of REPROCOLOR and is out of the ALHAARTH mare LA JWAAB, a half-sister to Champion Italian filly CROESO CARIAD and the multiple Group 1 placed MONA LISA. Quinlan secured the colt for 52,000 after seeing off trainer William Muir and Blandford Bloodstock's Richard Brown.
At the conclusion of Book 3 of the Tattersalls October Yearling Sale, Tattersalls Chairman Edmond Mahony commented;
"More than 110 million guineas has been spent on yearlings at the 2013 Tattersalls October Yearling Sale over the past two weeks, comfortably surpassing last year's record and yet again exceeding expectations. As ever, we are enormously grateful to our vendors who have brought the cream of the British and Irish yearling crop to Tattersalls. Their confidence in the Tattersalls October Yearling Sale has been matched by the buyers who have flocked to Park Paddocks from all corners of the world. Record individual prices may have dominated the headlines last week, but it has been the sustained demand throughout the past two weeks which has been the real feature of the 2013 Tattersalls October Yearling Sale. While Book 3 caters for a different sector of the market, today's trade has mirrored the strength of Books 1 and 2 with significant gains in turnover, average and median and equally importantly, a clearance rate above 80%.
"The 2013 Tattersalls October Yearling Sale has shown that quality British and Irish bloodstock is as sought after as ever, and we look forward to replicating our vibrant yearling trade in the remaining 2013 sales at Tattersalls."
The next sale at Tattersalls is the Autumn Horses in Training Sale that takes place from October 28-31.
Latest Press Releases
7th June 2014

1-2-3 for Tattersalls October Yearlings

12th October 2013

Al Thakhira and Kingston Hill complete Tattersalls Group race treble at Newmarket
Sale highlights